St. Paul Lutheran School understands that needs of the student extend beyond the classroom. St. Paul provides services to meet the needs of students and families with a variety of opportunities throughout the year.
Spiritual Life • Guidance Counseling • Comfort Dog Ministry
Extended Care • Health Services • Speech Therapy
Christian faith growth is woven into the daily life of our school, including a weekly chapel service on Wednesdays. In addition, everything St. Paul Lutheran Church offers is available to school families including children's activities, family events, pastoral counseling, and worship opportunities. Through the partnership with St. Paul Lutheran Church, the school has a School Chaplain, Pastor Peter Couser, who is available to answer faith questions for the students and their families.
Say the names Pax and Phoebe to a St. Paul Lutheran School student, and he or she will immediately smile. Our resident Comfort Dogs, a ministry of St. Paul Lutheran Church, make regular classroom visits throughout the year to spend time with our students. Pax and Phoebe also visit members of our community at hospitals, schools, nursing homes, special events, and are deployed when natural and man-made disasters occur.
St. Paul Lutheran School partners with trained health professionals to provide screenings for vision, hearing, and scoliosis to all of our students.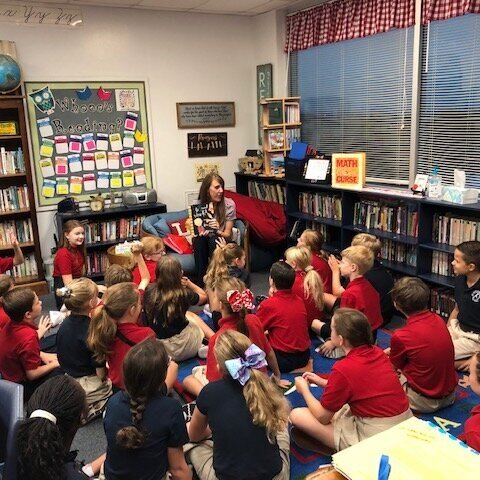 Karen Merritt, LPC, our school guidance counselor, serves students and families in a variety of ways. Whole class lessons, small group counseling, parent consultations, and short-term individual student counseling are some of the opportunities available.
For the convenience of families, care is available both before school starting at 7 a.m. and after school until 6 p.m. on regular school days. Extended care availability follows the school calendar and is not available on half days or holidays.
St. Paul Lutheran School partners with a professional speech therapist to provide services to students during the school day on campus.